Yesterday wasn't really the best day I have ever had, although it started out quite good. The flying part was nice, but my short stay in Bogotá was not – which was mostly due to my bad hotel experience. Anyway, I could not avoid my overnight flight to Dallas, so four (!) hours before the flight I showed up in the lobby again. After a short drive we arrived at the airport, were I waited a couple of minutes for check-in to start.
Day 8 of my American journey
I was proceeding dead-head as a crew member, but as a passenger on a different airline and in civil clothes. That left most of the American Airlines staff puzzled and they had to fight with their computers, as my case was apparently not anticipated by the system designers. After some back and forth discussions (we need your ESTA, I can't put in a crew-visa…) we eventually managed and I ended up on 15C. On intercontinental flights I am entitled to fly in Business Class, but this six-hour flight was operated by an Airbus A319 and on the "New American Airlines" it only has eight Business Class seats (US Airways has 12). They were all booked already, so I had no choice, but to fly Economy. The seats are good for smaller people who don't need much space, but at 1,92m I am certainly to tall for these…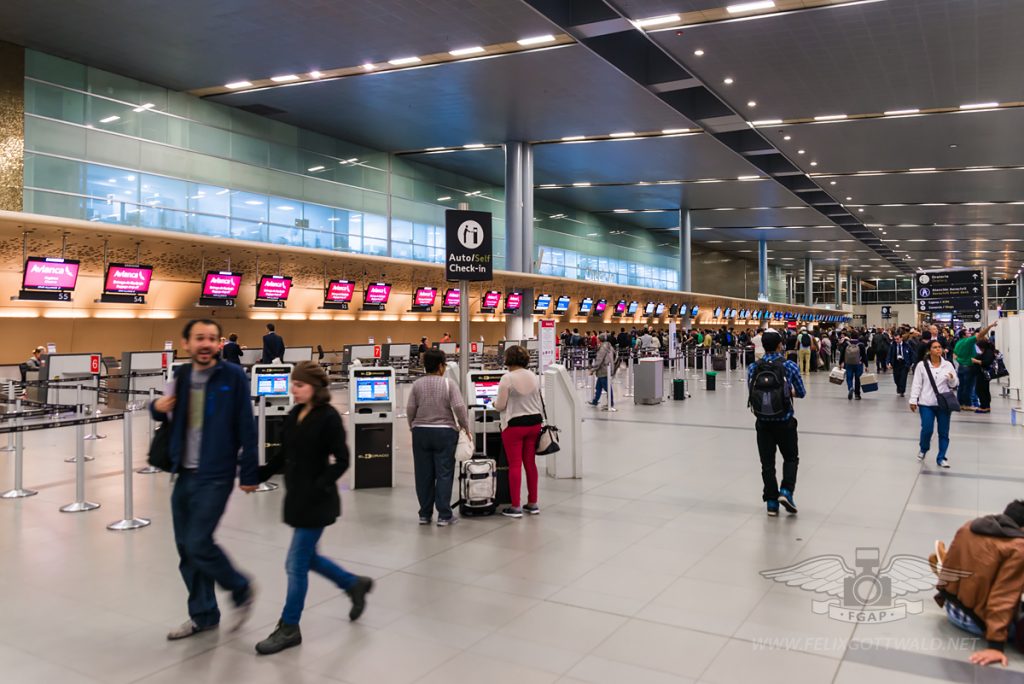 Waiting
Security screening was done in a minute without any complaints, which meant I had more than three hours to spend at the gate. Most shops were already closed and I wasn't interested in buying overpriced gifts anyway. I wasn't in the best mood, but managed to get some work done! Many of you will know that I have been publishing a MD-11 Calendar in the past two years and 2016 will be no exception – the opposite is true, as I am planning to have an AIRBUS and BOEING calendar for 2016 on sale as well! As I am always short on time I can not effort to waste any and kept myself busy browsing through pictures and doing some designing. Here is a draft of what the single monthly sheets could look like: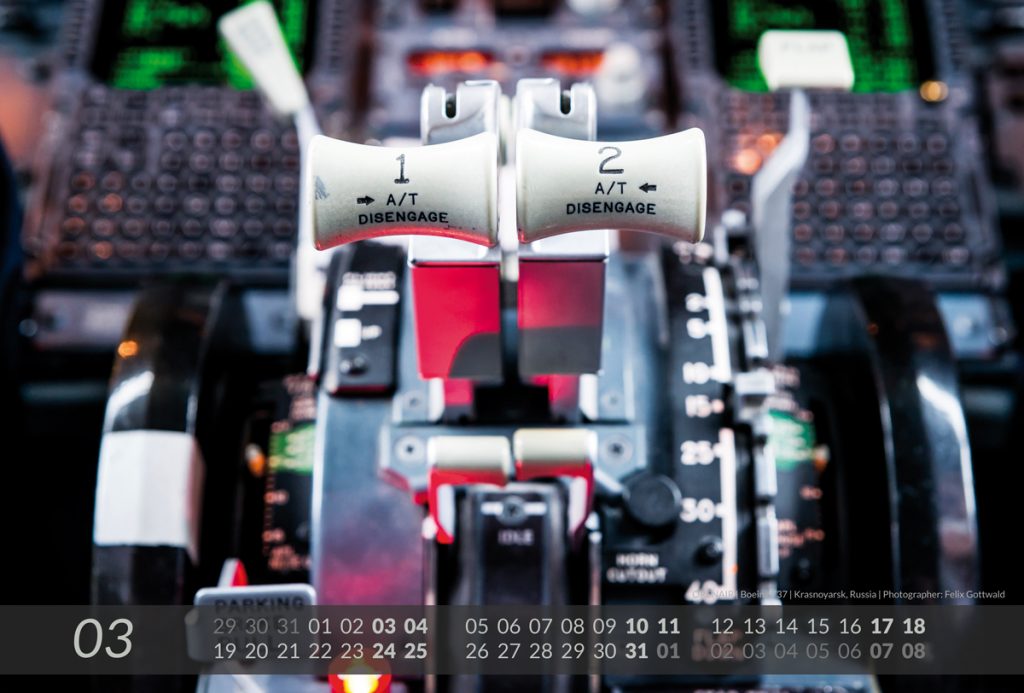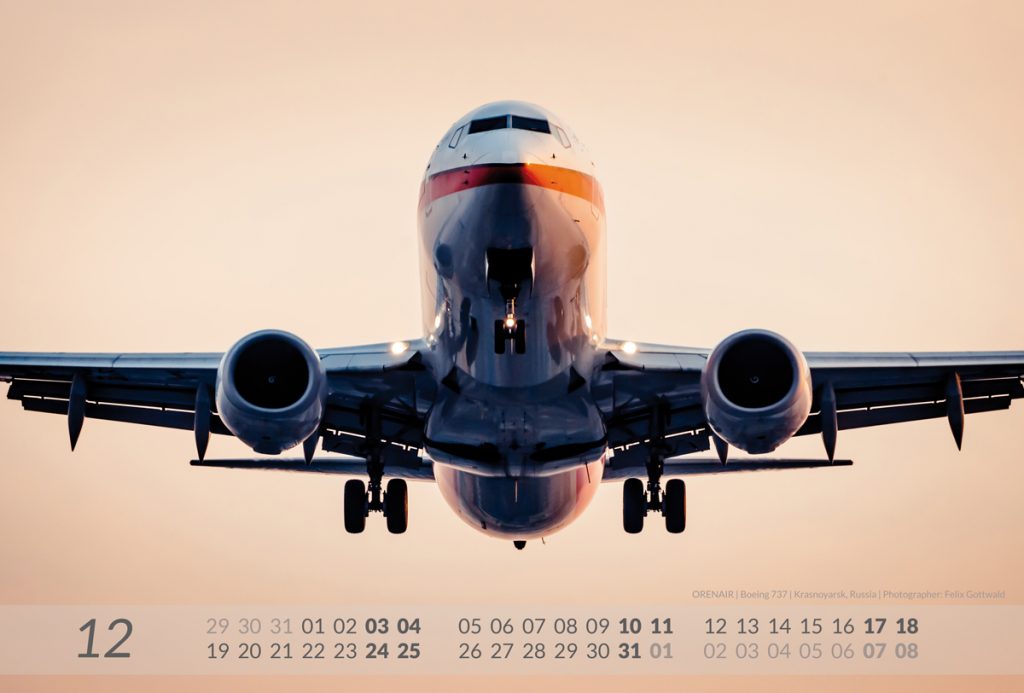 Flight AA1122 BOG-DFW
Otherwise the wait wasn't spectacular at all. Boarding started early and we left the gate a few minutes ahead of our scheduled departure time. The crew was really nice and I tried to take care of everybody, although the quality of food (a dry sandwich) on the flight was debatable. Fortunately the middle seat of my row was empty, which didn't prevent my window seat neighbour to occupy the middle seat with his things – I love it when people are considerate of others. An hour or two I started falling asleep, but it never lasted long, because the FAs would regularly bump into me while carelessly walking along the aisle.
I would have loved to explore the inflight-entertainment as bit further. The A319 we were on was fresh from the factory and every seat had IFE, but nearly no content was free of charge. A funny feature was a 3D map that could be adjusted by the passengers and also featured an interesting HUD-like cockpit view perspective: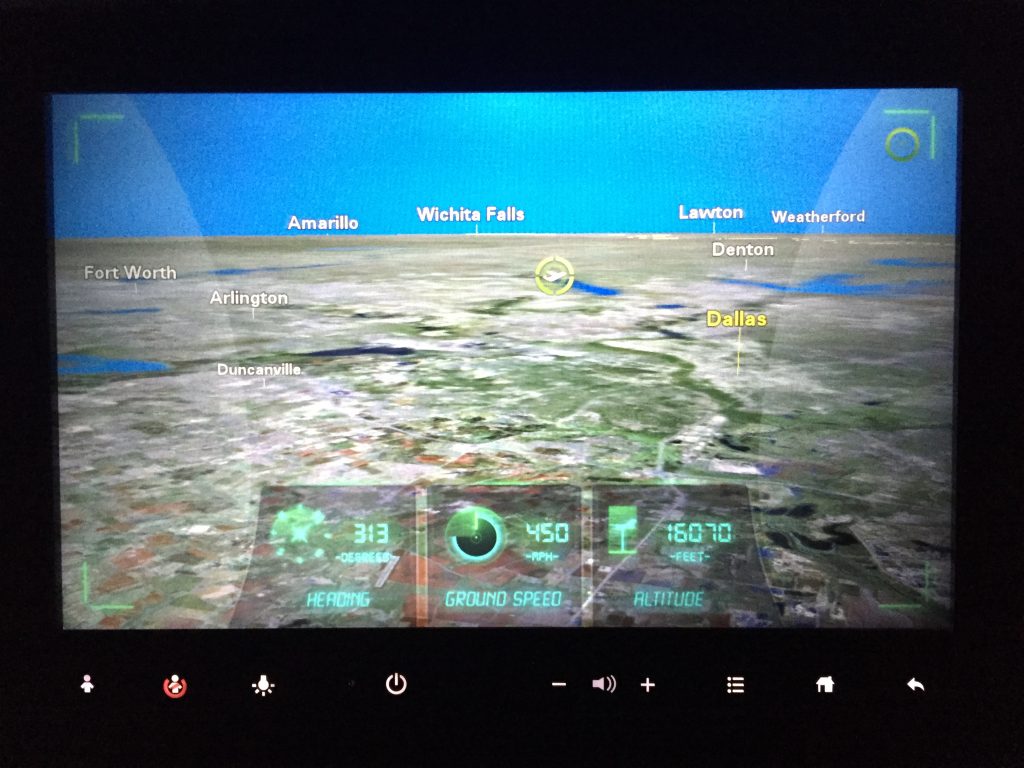 As it was the "4th of July" people obviously didn't travel, because the baggage claim area and terminal at Dallas-Ft. Worth were empty. There was just one big black car outside the terminal exit and it was waiting just for me! Our crew hotel is located just around the corner of Addison Airport in northern Dallas and near the well-known Belt Line Road that offers a broad range of restaurants. After some rest I headed for lunch and then grocery shopping at Walmart. It was a great sunny day – with a big heat wave hitting Europe right now I can't be the only person that looks like he had never seen the sun when I come back – and I so much enjoyed walking around! Friends asked me to get some Mac and Cheese convenience food and Lucky Charms cereals and it was a good opportunity to check the store to see if they had anything I don't get in Germany or that might be cheaper than at home. In the end I sticked to the before mentioned groceries and went over to Whole Foods to get myself fresh fruit (but I forgot to buy chocolate – big mistake).
The rest of the day was once again uneventful. I struggled three hours with iTunes as a new version is now available, but I can't install it due to some unnamed error and then the phone would not connect to the computer anymore… At the moment I am trying to stay up as long as possible and sleep in late tomorrow for the batteries to be fully charged again for our long flight from Dallas to Manchester and then further to Frankfurt.
Tomorrow will be the last day in the USA during "An American journey" and to be honest, I have had enough. I just want to go home and not be somewhere in the world all on my own anymore. It's so little fun to see foreign places, if you can not share the experience with somebody else…