Frankfurt! It was once again so annoying and so… Frankfurt! The flight to London was delayed by 20 minutes already. I suspect that they changed an aircraft on short-notice because it was supposed to be an A320, but in the end an A321 showed up. On the other hand there was an A320 sitting on the apron dark, but maybe that flight is leaving early tomorrow morning.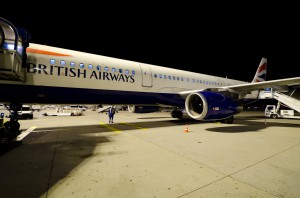 Once on the aircraft, I immediatly fell asleep. I remember taking-off and that there was a meal service (the salad looked excellent!), but this bis leather seats really made me sleepy! I am sorry to say it, but compared to other major carriers like Air France and also Lufthansa, British Airways is really superior on short-haul flights. No wonder that they can't make money, that on-board product most come at a high price!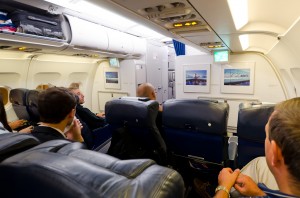 But sticking to the story – the plane was delayed already and then boarding was delayed, because there was no bus. A typical problem in Frankfurt and I hate to be on flights that use apron positions, as it is always a hazzle. So finally the bus arrived, the people got it and: nothing! We had to wait for the next bus to arrive first, before we could go. The other passengers were waiting behind the closed door anyway, so there was no security thread, but I guess it is just some stupid Frankfurt procedure again. Of course there were busses blocking the access for the next bus and it took ages before we left…
In the end we took-off more than 45 minutes late, but as there was only little traffic into Heathrow, we arrived only 15 minutes late. But I had to change terminals! So it was three levels down to take a train, then three levels up to get to the bus that was once again two levels down… Buses run every seven minutes and the transfer from Terminal 5 to Terminal 3 takes around 10 minutes. There a lot of flights from Heathrow: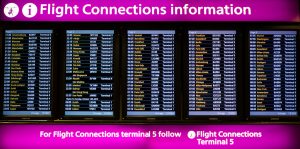 We got a great view on many parked aircraft and as we approached Terminal 3 you could see the really big guys. A Qantas Airbus A380, then two Emirates Super-Jumbos and then another Qantas example. Luckily security screening only took a minute or two and the lounge was on my way to the gate, so Internet access and a free Fanta were assured! The big bar looked really nice and champagne was ready for anyone to take: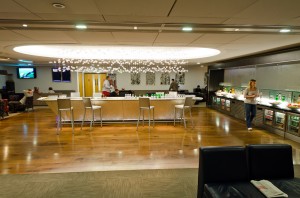 The lounge itself is quite big and has different sections in different styles. There are several bars, but once again the snack section seemed a bit small again. Only saw some crackers and crisps, but you can have sandwiches and other things made for you as well. And the best thing is that you get a great view on the northern runway! At night-time you will be seeing all the airport and runway lights and during the day you can clearly see all the arrivals (or departures) on the runway.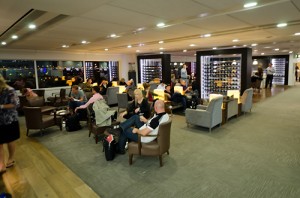 However I will have to get to the gate now and there is no time to waste on the way to the big Qantas A380 🙂