I only spent 12 hours at home and now I am on the road again! Having arrived from Krasnoyarsk yesterday in the evening, I barely had enough time to get something to eat with my fiance, take a rest and re-pack my bag. A meeting with the International Federation of Air Traffic Controller Associations (IFATCA) is taking place in Singapore and I have to be there to represent the pilot community!
I took to a train to Frankfurt this morning and arrived at Germany's biggest airport at around 5 pm. At the airport I used the bus to Terminal 2 – the first and last time I did that! I usually use the skyline train between the terminals and this is much more convenient. I had to wait 10 minutes in a crowded bus with no room for luggage and you don't even get a nice view. With the train you can always take a look at the aircraft parked on the apron…
Check-in in hall E was quick and fortunately there was no queue at passport control. Contrary to Terminal 1, all gates in Terminal 2 have their own dedicated security checks, so for now I only had my passport checked. At the moment I am sitting in the oneworld lounge, which is operated by JAL – Japan Airlines. Here is an overview of the lounge.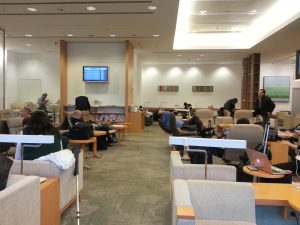 It does not really look that spectacular, basically because it is not very spectacular… The waiting area is more or less comfortable and you can see the skylink driving by, but that is it. A big TV screen shows CNN and another screen shows the oneworld flights. There is only little food available – I have so far eaten five(!) Vienna sausages and there also some (cheap) sandwiches available. The bar is also rather simple in its appearance: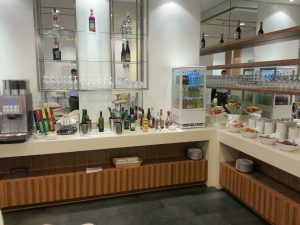 A small selection of alcoholic beverages and only very few soft drinks are available. There is no service staff, except for the one lady collection used dishes. The magazine selection includes some Japanese magazines, some more Japanese magazines and also a number of Japanese newspapers. Okay, it is the JAL lounge, but given the fact there is exactly one JAL flight per day, but many more by oneworld partner airlines, this might not be an ideal situation…
Anyway, I only have 60 minutes left, before my flight to London leaves. It will be BA 913 on an A320. I have only travelled on British Airways once two years ago and it will be the first time that I can enjoy their Club Europe product (which is Business Class). The flight will arrive at Terminal 5 in London, but my QantasA380  flight (QF 10) to Singapore is leaving from Terminal 3 and I only have 2 hours between arrival and departure. Will there be enough time for another blog post?
Update: the flight to London has been delayed by 20 minutes – will I be making it to the Singapore flight???