As you know, I have spent a couple of days in Detroit due to the snow storm there. When I woke up yesterday morning, the weather had changed dramatically to the better. See the sunrise from my hotel room was a good feeling, after days of grey and darkness. It was the ideal time for spotting with low temperatures and a crisp cold air, but I had no time for that!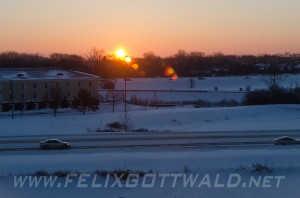 Our pick-up from the hotel was 30 minutes late, but we were glad he came at all. Once at Detroit Metro Airport, we made our way to the check-in desk of American Airlines to catch a flight to Dallas/Ft. Worth and surprisingly everything was calm and there weren't that many people. Nevertheless we had to wait for 30 minutes, as stranded passengers were standing in line to ask for further information or ticket changes, even though the bag drop is not the right place for those requests. Some of the AA staff were quite angry at those passengers, but with nobody else around to ask, I was happy that our flight was on-time (the ones before had either been cancelled our were delayed by hours). There isn't much to tell about the airport itself: after the security check you have the chance to get something to eat or a newspaper, but I wasn't interested in any of that and tried taking some pictures through the glass windows. Here are some impressions: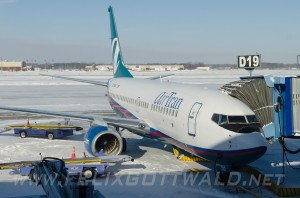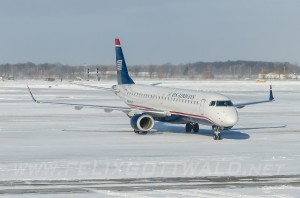 Our aircraft came in from Dallas and that meant it wasn't affected by any of the snow storms of the recent days. It was clean of ice and nearly on-time. Most flight between DTW and DFW are operated by MD-80s, but not ours… It was a Boeing 737-800, reg. N894NN. The aircraft had been delivered to American Airlines in June 2012 and must have received the new colours only recently.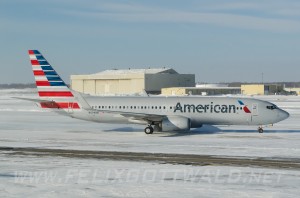 Everybody was in a big hurry (gate agents always seem to be) and I didn't say hello in the cockpit. However, on the PA the captain's voice sounded friendly and the cabin staff was doing a good job as well. With a bit of luck I managed to get an emergency exit window seat and compared to Europe I was astonished that people were able to stow their hand-luggage in the seat in front of them. Most airlines I know want emergency exit rows clear of any bags or items, but with the spacious seat (really nice, unless you are sitting in the second half of the aircraft where the seat pitch is smaller) it seems to be no problem…  Stay tuned for some more photos later on!