Once again I was on my way to a meeting last Sunday. Participating in the SESAR Joint Undertaking (SESAR stands for Single European Sky ATM Research and basically does what it says – strive for a unified ATM system in Europe), I am the expert of our European Cockpit Association in a project called Remote and Virtual Tower. Anyways, all the ECA experts met in Dublin on Monday and I somehow had to get there!
One of the options was using British Airways via London Heathrow and that was my chance to fly on the Boeing 767-300 of the UK airline, one of the few carriers to operate it on short-haul services in Europe! Wasting no time, I used this opportunity and went to Frankfurt to take that flight. BA departs from Terminal 2, not my favourite, but I have seen worse. There aren't any good views on the apron, but I could at least spot the tail of "my" aircraft. It was G-BZHA, one of seven domestic 767s that had been delivered new to the airline in May 1998. BA is very strict on their boarding procedures, so I had to wait for all the frequent flyers to board first and there were lots of them! But once on the aircraft, I still had more than enough time for a little chat with the two pilots. Both were great people and seemed like a lot of fun! When the time came to take my seat, the purser escorted me back to my window seat with a good view on the wing and engine!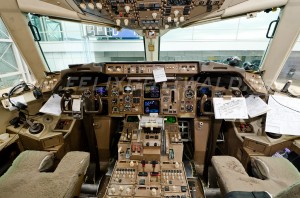 I still remember the take-off, but I soon fell asleep as I was really tired because I had to get up at 4 o'clock in the morning. But when we left the hold over Lambourne I woke up again and enjoyed the view over the London suburbs and LCY London City Airport. Should you ever fly into London with runway 27 in operation (nearly always the case) then make sure to sit on the right side! You will be seeing all of the London sights like the Tower Bridge, Westminster Palace (Parliament) with the famous clock tower of Big Ben and of course Buckingham Palace and the Hyde Park! I was seated at the left window which meant I was facing the sun – not the best choice, even though we landed on the northern runway 27R where there is lots to see during approach, like the BA maintenance hangars where a Qatar Boeing 787-8 Dreamliner was parked…
Most BA flights use the new Terminal 5 at Heathrow and the Frankfurt service does so too. The terminal is well designed, but the walking distances are quite long. The flights to Dublin depart from Terminal 1 and I first had to walk to a transfer train, then walk to a bus, then do a 10-minute bus journey mostly below the ground, just to arrive at Terminal 1 where I had to do some more walking… Having arrived from an international flight I was required to clear passport control (even though I did not want to enter the UK) and then walk through the whole duty-free area. The Frankfurt flight was delayed due to an inbound slots and I was really short on time! The walking time to my gate was supposed to be 20 minutes and I only had seven left… I ran through the whole terminal, just to face another passport control as I would now exit the UK again – absolutely ridiculous! In the end I made it just in time to board an A320 that would take me to Dublin. Once again a window seat and once again on the left side… Here is a quick snapshot of one of the new Virgin Atlantic Little Red A320, that is operated by Aer Lingus for the second biggest airline in the UK: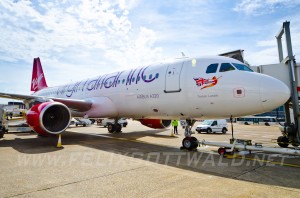 The second flight of the day was on an A320 that was formerly a BMI – British Midland plane, which could clearly be seen when looking at its registration G-MIDO! I had uploaded an image of the aircraft while boarding to instagram, which is one of the many good ways to join me during my travels! Click here for a link to my instagram picture http://instagram.com/p/YFooqJk5f7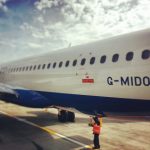 Just like the first flight, this was one was fully booked. Considering the prices that BA charges in comparison to airlines such as Aer Lingus this was most surprising to me, but there were once again many frequent fliers on this service that probably connected from somewhere else. Not being on a long-haul aircraft again, I could feel that the crew was a bit more rushed than on the 767, but I knew that feeling from my times on the Airbus short-haul fleet. Unlike most other aircraft in the BA fleet, this aircraft still has the "Lufthansa seats" that were used at BMI and the typical brown cabin dividers of British Midland. I wonder if they are going to keep it that way or if there will be a refit? It is only a short hop from London to Dublin, so I didn't mind anyway. Otherwise the service was exactly the same again, with a drink and snack being served in Economy, oh, I mean Euro Traveller… Here is a high-quality picture of the former BMI cabin: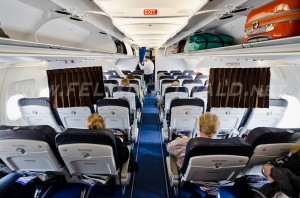 Dublin Airport didn't change much since my last visit two weeks ago. Passport control was quick and my luggage arrived in one piece. I took the express bus to the city centre that stopped right in front of my hotel and which had internet on board! It is common that buses have that in the UK and Ireland and I really wish that our German bus operators would upgrade their equipment to feature that as well! You will find some more photos of my bus tour through Dublin via my instagram account.