Time flies, especially when I am at home! For some reason there is barely enough time to take a deep breath, before I have to do some "real life stuff", like going grocery shopping or visiting my family. I did not fly much within the past three weeks and only did one rotation via Krasnoyarsk (KJA) and Beijing (PEK) to Seoul-Incheon (ICN) and back via Krasno to Frankfurt.
My online store has performed quite well and a few people have bought some of my images to be printed! I have even ordered a big poster for myself in size 150x100cm. That is really large and the quality was absolutely amazing – I never imagined my photos would look that good!! But one question remains, where am I supposed to hang this huge poster?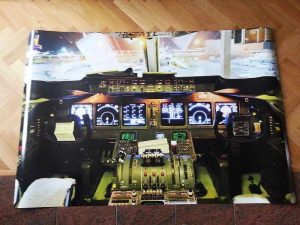 Another highlight of the past days was the arrival of my new GoPro Hero 3! Finally I will be able to shoot some damn cool aviation geek movies from the flight deck of the MD-11! I haven't tried it out yet, but I am looking forward to it a lot… I don't have any flights scheduled for the next weeks at the moment, but the schedule for January is not yet finished and I will be on standby (again!) from 22nd till 25th December. Maybe I will not spend christmas at home with my family and friends, but at some place far away… 🙁 At least I got my new GoPro!
I am trying my best to keep you updated as often as possible! A good way to follow me is via my facebook page, as it allows for an easy display of single photos and short text messages. If you have not liked it yet, go to www.facebook.com/felixgottwaldaviationphotography and hit the like button!