After a short 24-hour stay in Nairobi it was time to hit the road again to fly further south to Johannesburg. After a little row at security control we cleared passport control and a second security check-point easily and as we stepped out of the terminal, our aircraft was already taxiing past us  – perfect timing! As always we were ahead of the schedule and left the parking position some 10 minutes early. The airport was quite busy and we had to give way to a South African Airways Boeing 737-800 and a Kenya Airways Embraer, before we could position ourselves on runway 06 for take-off.
After departure we turned immediately right for a south-westerly heading towards a waypoint called "EVATO" that marks the border to Tanzania. On the way we enjoyed the fabulous landscape of the Rift Valley and even saw some volcanoes: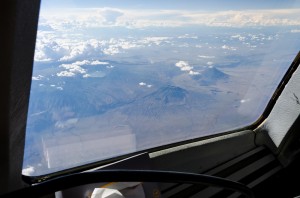 On a clear day you can see Mt. Kilimanjaro and Lake Natron very well, but today it was mostly cloudy and so we continued via Dodoma towards Lake Malawi. While big parts of the airspace in Kenya is under radar surveillance, Tanzanian airspace is mostly procedural, which means you have to make position reports all the time stating your flight level and estimates for the next waypoints. A typical conversation with Dar es Salaam ATC would go like this:
* We:  "Dar Control, good afternoon, Lufthansa Cargo 8296, FL 360, position EVATO"
* Dar: " LH Cargo 8296, maintain FL 360, next report DO (Dodoma) and say estimate DO"
* We: "LH Cargo 8296, maintaining FL 360, wilco, estimating DO at xx:xx"
* Dar: "Roger"
This procedure will then repeat itself every 30 minutes or so, when you pass the next reporting point which is either marked in our maps or specified by ATC. Usually it is the border point to the next sector or some important waypoint in between.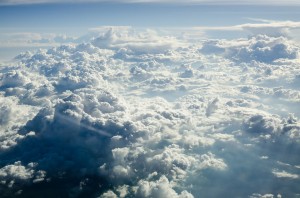 As Lake Malawi appeared ahead of us, we got in contact with Lilongwe. The interesting part about Lilongwe is that one controller is responsible not only for en-route traffic, but for all traffic going in and out of the capital's airport as well. Cruising over Malawi you will then hear how somebody gets a landing clearance or taxi instructions… Later on we passed a small section of Mozambican territory and talking to Beira Control I could make some use of my very limited Portuguese. Harare Control proved to be much more difficult, as their radios were quite bad and the controller had a very strong African accent. We were first heading for the Masvingo VOR and then turned directly towards Greefswald VOR that marks the border to South Africa. Making our way into the civilized world again, we found the controllers at Johannesburg ATC very cooperative! They first cancelled all speed restrictions and then even gave us the westerly runway 03L, instead of the standard runway 03R that involves a long taxi route. We touched shortly after sunset and enjoying the evening mood, we quickly taxied to the stand to successfully complete today's flight!