Visit to Maastricht Upper Area Control Center (MUAC) for a Eurocontrol meeting on behalf of German pilots association (Vereinigung Cockpit).
Besides being a pilot and taking photos, I started working for the German pilots association "Vereinigung Cockpit" voluntarily last year. More than 8500 pilots of many different airlines nationwide are organised in our union and it offers everyone a chance to explore certain fields of aviation. There are over 15 working groups covering all aspect's of our work such as "Accident Analysis", "Training", "Duty Times" or "Airport & Ground Environment". Others specialise in topics like "Business Aviation" or "Helicopters", as we want to include every commercial pilot in Germany in our association!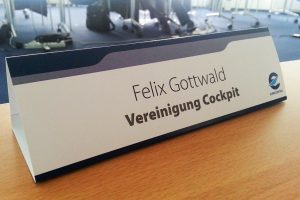 I signed up for the "Air Traffic Services Committee" that deals with all aspects of air traffic control and management and also weather. It is a highly demanding work complex, as we have to take many rules and regulations into account (starting for example with the ICAO Annexes, PANS and Docs), but it is extremely rewarding! We directly influence our working environment (for the better) and everyday thousands of pilots are benefitting from our work. Obviously, we do not only work on a national level, but are integrated into a network of pilot associations in Europe and worldwide. All of our committee members represent the pilot's opinion in task forces, committees and working groups at Eurocontrol and ICAO, talking to specialist of air traffic control and weather providers, legislative bodies and all kinds of highly important people. On a European level we are organised in the "European Cockpit Association" (ECA) and internationally in the "International Federation of Airline Pilot Associations" (IFALPA).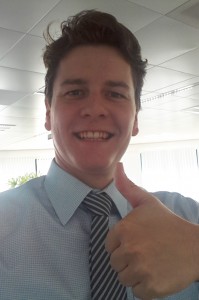 Even though I only started work at the ATS committee last year, I am already assigned to a number of tasks and one of them is participating in the SPIN SG (Safety Nets Performance Improvement Network Sub-Group) of Eurocontrol – everything has to have a highly complicated name that can then be abbreviated again. At the moment one of the main tasks of this group is working on RA Downlink. If two aircraft get too close to each other, our on-board anti-collission system called TCAS advises us to climb, descend or maintain the current altitude to avoid the other aircraft. This is called a TCAS Resolution Advisory or short TCAS RA. Every time this very rare event happens, a couple of data are send down to the respective air traffic control centres. There it can be processed for statistical data, to identify certain hotspots in the air or to find out if pilots are complying with TCAS correctly. But it could also be used to display the occurrence of a TCAS RA directly on the screen of an air traffic controller and some control centres already do that. However at the moment there are no harmonised provisions and rules and the SPIN SG is trying to determine what these could be. Is the display on the radar screen desirable? Should it be for information only or even equal to the mandatory pilot's voice report over the radio? These questions are quite difficult if you really look into the topic and there are many different opinions from all the experts and stakeholders involved…

The latest meeting of the SPIN SG took place this week at the Maastricht Upper Area Control Center. The ATC center handles flights in the Upper Air Space (above FL250) above the western part of Germany and the Benelux countries. But there is also a meeting facility and after meeting at the Eurocontrol headquarters in Brussels the last time, it was nice to be at a new place. The airport of Maastricht-Aachen is quite deserted and only has a few charter flights to Southern Europe. There are Germanwings flights from Berlin, but they did not operate on the days I needed to go. So I had to take the train from home – a 7,5 hours journey including changing trains three times! But it all worked out well, even though the last train from Liège to Maastricht was quite crappy.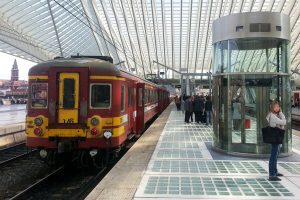 In the evening I met with my colleague (a captain on the Air Berlin Dash-8) to discuss the upcoming meeting, but I soon went to bed to get some rest. We had ordered a taxi for the next day, but the Road Cycling World Championships took place and we hit a lot of traffic! The taxis were usually big Mercedes and BMW limousines so at least were sitting comfortably. The airport is around 10 km north of the city and passing the perimeter fence, I could see the tail of a Cargolux Boeing 747-400F that would probably fly to Africa or South America later on. Otherwise just a few Business Jets could be seen and during the day I heard a couple of small aircraft approaching or departing the airport.
The MUAC itself is a rather efficiently built complex that was apparently extended recently. After trading our passports for a day pass we were heading for the meeting room and soon the discussions began. After several coffee breaks and lunch, we finished after 5 pm and once again had to wait 30 minutes for a taxi. We initially planned to go to downtown Maastricht for the evening, but my back was hurting very badly. The days before the meeting I had moved wardrobes from my home to my mother's and had started putting together new ones for my own apartment –  I apparently overdid it. It's time to get into better shape again!! After spending the rest of the day in bed I felt a better the next day, but I can tell you that sitting around all day in a chair or train seat doesn't really help…
My trip home was smooth again and surprisingly everything worked out. As I left the airport, I saw a Royal Jordanian A300F approaching Maastrich in perfect light, but my camera was taking a rest at home… My lunch consisted of a Dürüm Döner at Musti in front of the main train station in Maastricht (I really recommend eating there if you feel like Döner before taking a train). Fortunately I had a seat reservation on all my trains. Especially the ICE International between Brussels and Frankfurt was packed with people and even in First Class some of them had to stand between Liège and Cologne!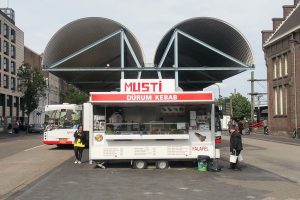 To sum it up – the meeting at the control centre in Maastricht was good and an interesting experience. We were able to get our points across and were representing Vereinigung Cockpit and pilots in general well! The next meeting will probably be in Brussels again and I am looking forward to going to the European capital again!