After flying from Germany to Miami on Air Berlin, I had a couple of days to explore Southern Florida. I had to spend some time had the beach, as the weather was just perfect with blue skies and temperatures around 25°C/77°F. It was the first time I went on a holiday to chill out and relax for a long time and there was no way I would rush things! The beach atmosphere was simply too tempting…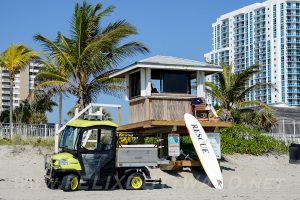 Recreation
Despite the beach and airports there is much more to explore near Miami. A highlight was my visit to the Everglades National Park. While most people will go on an airboat ride (just think about the opening sequence of CSI: Miami), I opted to do a bicycle tour. You don't even have to bring your own bike, but can rent one at the Shark Valley entrance (more info here) and go on a 15 mile tour by yourself. It will not only give you the chance to exercise after having had too many big American burgers, but you can enjoy wildlife such as alligators and a multitude of birdlife from a close distance as well. And by close, I mean really close!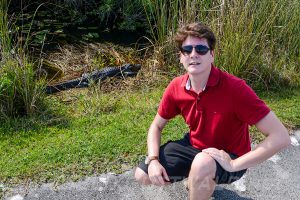 El Dorado
In the end there was only little time left to stop by at the airport, especially as the wind blew from the west for most of the time. While it is possible to take photos of aircraft approaching from the east and departing to the west, it was too much of a hassle for me and I didn't try. However, I made my way to the airport one morning for three hours to check out the famous "El Dorado" location. I was greeted by golden morning light when I arrived just minutes before sunrise, but did not find any real gold – the location is named after a furniture store that is located right next to the road. If you are going there, look for this sign: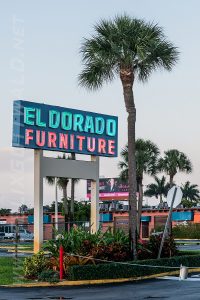 You have to avoid parking on their lot, so just go to the end of the road (click here for a map) and you will most likely see some more cars of people watching airplanes. A ladder is a good idea, but you may also climb the few stones lying around. If you are early enough, you might see a beautiful sunrise with the sun climbing slowly over the railway tracks…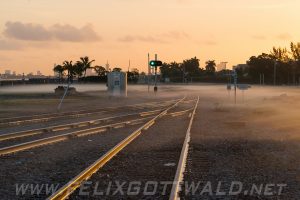 Aircraft images
But I guess nobody is interested in my silly holiday snapshots. So here are some aircraft images! Miami is a cargo hub for South America and is highly frequented by airlines such as Tampa Cargo (being renamed Avianca Cargo now), ABSA Cargo or LAN Cargo that park on the southern side of the airport and usually land on runway 08R at the El Dorado spot. I did see some Sky Lease Cargo and UPS aircraft as well, but they landed on the northern runway 08L and were out of reach for a decent shot.












Being a gateway to the Caribbean there are many colourful airlines flying in and out of Miami. Some can be seen here:




Not to forget Miami is also a hub airport for American Airlines and scheduled destinations for most major carriers of the United States. Here are some of their aircraft.







All in all my stay at the airport was way to short, but I will be back for more – Miami is ideal with more than enough opportunities for recreation, shopping and dining and the airports in the area like Miami International or Fort Lauderdale are always worth a visit!