You haven't heard from me for some time now, but that is basically due to the fact that I have been extremly busy: flying the MD-11, working for the pilots association and hey, even I got a private life. Nevertheless I am still taking photos and I wanted to share a few impressions with you that I got one of my recent flights out of Delhi Indira Gandhi Airport (DEL). It  is India's biggest airport and hub for many airlines like Air India (now also with the Dreamliner!) or Jet Airways. It is also a major airport for cargo flights and one of the many airports on the Indian subcontinent that Lufthansa Cargo flies to.
In June I had the pleasure to fly to Delhi twice. It is a nice route from Frankfurt, as you are flying over places like Afghanistan which you usually don't get to see. I can tell you that this country is an extremly dry place… The second time I went to Delhi I arrived on the new flagship of Lufthansa, the Boeing 747-8! We departed the Indian capital bound for Singapore on our beautiful MD-11 shortly before sunset and saw some spectacular clouds. Huge cumulonimbus clouds (name derived from the Latin words cumulus ("heap") and nimbus ("storm/rain")) formed all over India and the Indian Ocean and it was challenging to avoid them and the associated risks like gusts, turbulences and even lightning strikes. Speaking of lightnig, here is a video that I took departing from DEL, of course available in HD:
I know, it is a bit short, but we were still in our climb passing FL200 and I am there to work as a pilot and not only to take videos! Here are a few more photos that I was able to take quickly. They show some big clouds and the late evening sun illuminating these big buddies!
Cumulonimbus clouds are real threat for aviation, not only beause they bring rain showers and thunderstorms to airports on ground, but especially because the air inside them is moving really fast. Pilots have to circumnavigate them in a safe distance, often up 20 NM and if possible on the windward side! If you want to know more about clouds, then the wikipedia article about Cumulonimbus clouds is a good start! Here is a photo of our weather radar that shows you how these big clouds appear on our screen and that we are avoiding them as far as possible: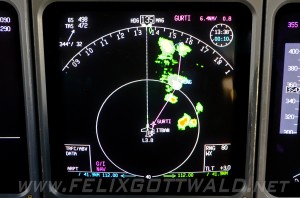 The magenta line shows our original routing whereas the dashed white line indicates our current heading. The inner circle represent a 40 NM radius around the aircraft. Green areas are usually clouds with lots of moisture, while you can expect some good turbulence in the yellow areas already. Red has to be avoided at all times!