January was a very quiet month for me. I was able to stay at home for the first three weeks, before being on a meeting with the air traffic controllers of IFATCA (a report will follow later on). But things went back to normal thereafter and I immediately went to work again to fly to Krasnoyarsk and Tokyo. You would expect that the weather in Siberia would give you a clear sky and freezing temperatures, but the opposite was the case! At one stage we had +3°C and it was raining. A storm was raging outside and many of our flights had to divert to Novosibirsk. Yet, we arrived safely in KJA from Frankfurt and went to the airport the next day for our flight to Tokyo Narita via Shenyang. We cleared customs and immigration and were driving in the crew bus towards the parking position of our aircraft. It had not arrived yet and we were taking a look around, but could not spot it. All over a sudden the bus driver received a call, made a funny face and tried to tell us with his gestures that we were going back to the terminal. We called Frankfurt crew ops and they confirmed that our aircraft had indeed diverted to Novosibirsk Tolmachevo as well… Great! There was a flight to Novosibirsk on Nordstar, leaving within an hour, but the Russian authorities do not allow us to proceed as dead-head passengers within Russia and so we were stuck in Krasnoyarsk! The crew from Frankfurt had to stay for 10 hours at Novosibirsk and then flew to Shenyang and Tokyo from there…
Making the best of the situation I called my friend Dmitry and we went to the airport for some planespotting. Unfortunately traffic numbers were really low and the only aircraft we saw in good light was a Lufthansa Cargo MD-11. It looked magnificent though:
After two days we finally left Krasnoyarsk, heading east for a non-stop flight to Tokyo Narita. Everything was very quiet and instead of taking a more direct routing via Mongolia or China, we avoided both countries (probably to save over-flying fees) and flew via Lake Baikal and towards Sakhalin, only to turn south shortly before it over the Sea of Okhotsk. Approaching the island of Hokkaido we got in contact with Japanese air traffic control and when we arrived in Tokyo it was already dark. Narita has two main runways. The eastern runway 16R/34L is only 2.500m long and therefore not usable for the MD-11 most of the time, especially in bad weather. So instead we took runway 16L for landing that is 4000m long and gives direct access to the cargo ramp without the need to taxi over the whole airport.
After a quick visit to the Sushi restaurant near the hotel, I went to bed, only to wake-up at 3 am local time already! Only Japanese TV channels and ridiculously high prices for the internet made me suffer till the moment I could set-off and take the first bus to the airport again! I arrived at Terminal 1 at around 7.30 am, just in time to see the early morning arrivals (I will show the photos later on in a more detailed report). The shooting continued and despite taking photos I also managed to get a few video sequences with the help of my camerahippo: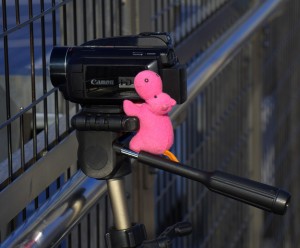 After about 10.30 am it didn't make sense to continue taking photos from here due to the bad light. There is a free shuttle bus to Terminal 2 and within minutes I was at the opposite end of the airport buildings. The light was good, but the views were not and after a few depressing tries to take a meaningful photo I decided it would be best to head home to get some rest. After struggling to get a ticket for my bus and finding its stop, I managed to get on board and still thinking about the traffic I had seen (so many heavy freighters!) I arrived back at the sushi restaurant at midday. Surprisingly (or not) my captain was there as well and we had a quick bite. I went to bed for a couple of hours, as we had to fly back to Krasnoyarsk already and once there we barely had enough time to get some sleep again!
Shortly before the last flight of this rotation, I had the chance to take a photo of an Alrosa Tupolev TU-134 – a chance I was not going to miss!
You can find a number of photos from Krasnoyarsk in my new gallery named "Krasnoyarsk" (that comes as a surprise, right?) in my planespotting photo section. I will be putting more photos in this gallery soon, but first I have to fly a MD-11 down to Bangalore in India 🙂